Artist's Statement

have been quilting for several years. Gradually the meaning of what I do has been expanding. I am more in touch with the spiritual part of myself than I used to be, and I have an appreciation for the serenity and the sense of the divine that the universe gifts to us when we are open to their presence. My most important goal has always been to create something of beauty. Now I also want to imbue my quilts with a feeling of tranquility and a sense of the sacred. When people look at my quilts and are able to experience these things, I feel fulfilled.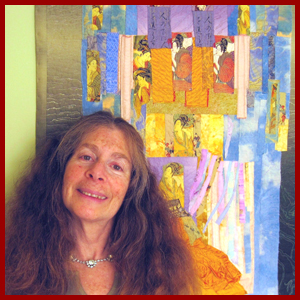 Some favorite elements of my works are skies, clouds, water, trees, candles and blossoms. There are also portraits of women in many of my quilts, robed in beautiful clothing, and representing many cultures of the world. Color is a source of deep joy to me and all my quilts are done in radiant and harmonious colors.
I have recently been using digital images in my work. I use my own photos of nature and masonry: a growing collection of trees, blossoms, water and skies, flights of stairs, walls, temples, sidewalks strewn with leaves, tiled doorways, marble facades and chipped paint. I have also used photos of completed quilts, both full images and details, which I edit for color and size and then incorporate into a new quilt.

My Collectors
I have quilts in the permanent collections of:

Adonal Foyle, former NBA player
The Alameda County Arts Commission
Highland Hospital, Kaiser Permanente and Summit Medical Center